LF-30 Electrified Concept
Making its world debut at the Tokyo Motor Show, the Lexus LF-30 Electrified concept points to upcoming battery-electric vehicles (BEVs) that deliver a fundamental leap in performance, handling, control and driver enjoyment.

Its technology enables integrated control of the powertrain, steering, suspension and brakes to provide the ideal vehicle posture in each situation, including provision of front, rear and all-wheel drive as required.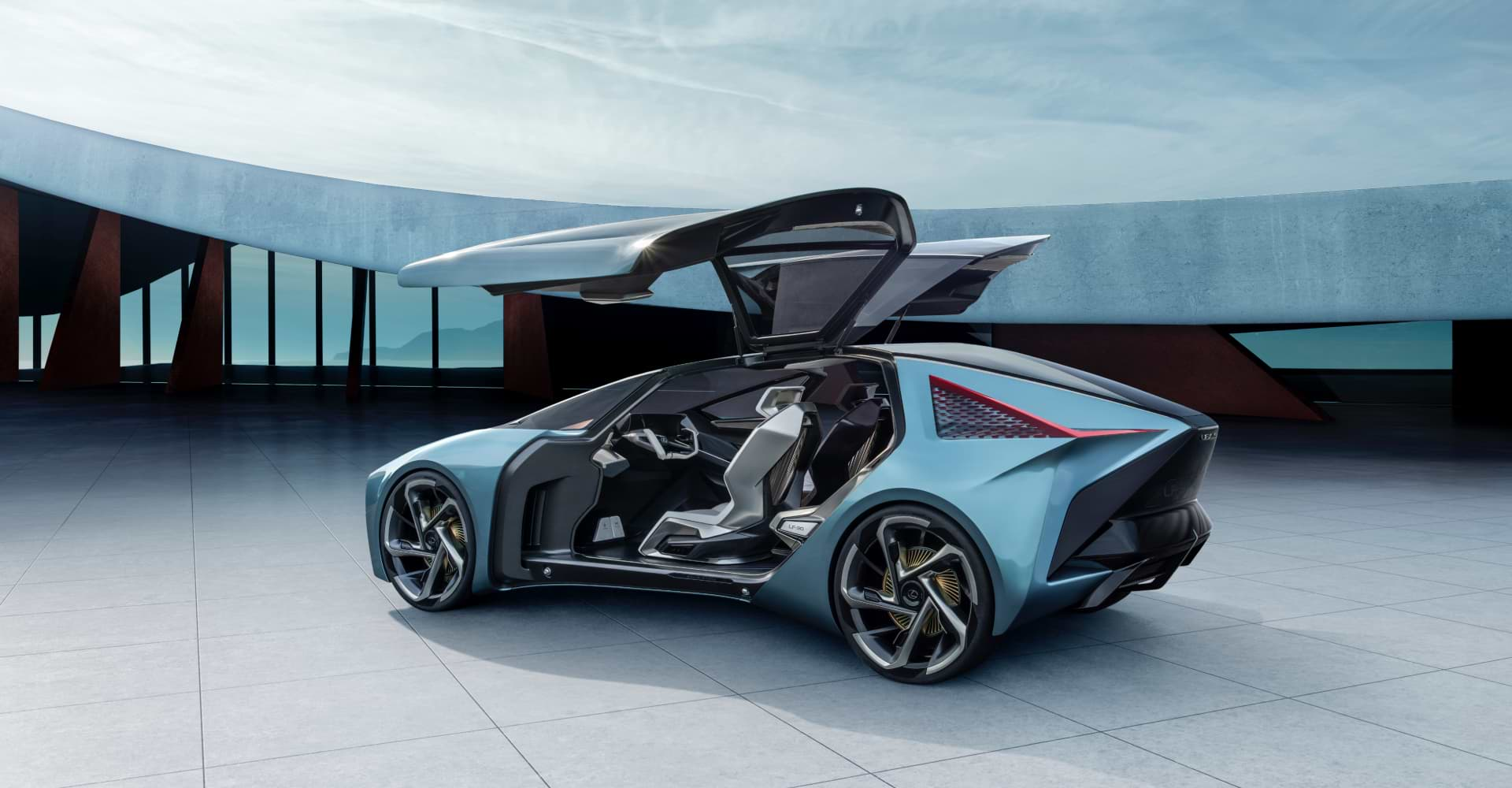 FUTURISTIC DESIGN
The Lexus LF-30 fundamentally transforms the essence of luxury vehicles with its tantalising peek towards the technology of 2030 with its futuristic design, newly designed cockpit, steer-by-wire system and autonomous driving technologies.
It is designed to deliver a dynamic experience unlike any currently available with in-wheel electric motors and maximum outputs of 400kW and 700Nm and a 0-100 km/h acceleration time of just 3.8 seconds.
Evoking the original fun of driving Lexus, its technology includes new advanced posture control, drone support and other electrification technologies to further evolve driving pleasure.
INNOVATIVE INTERIOR
The LF-30 interior is one in which a sense of openness and a sense of envelopment coexist. Comfort and convenience extend to all switches and controls being comfortably within reach while a gesture-control large-screen display is provided for the passenger. A Mark Levinson® audio system creates a next-generation listening environment. Headrest speakers provide an optimal audio environment and have a noise-cancelling feature that contributes to enhanced quietness.
A glass roof above the rear seats features voice control and a gesture-controlled "SkyGate" display window that uses AR to display various types of information, such as a realistic star-filled sky, user-favourite videos, and even navigation.
Sustainable materials such as Yakisugi (charred cedar), a traditional Japanese material, is used in the floor and steering controller while recycled metal was processed into fibres for use in creating the pleated door trim indicating the direction of next-generation luxury.,/p>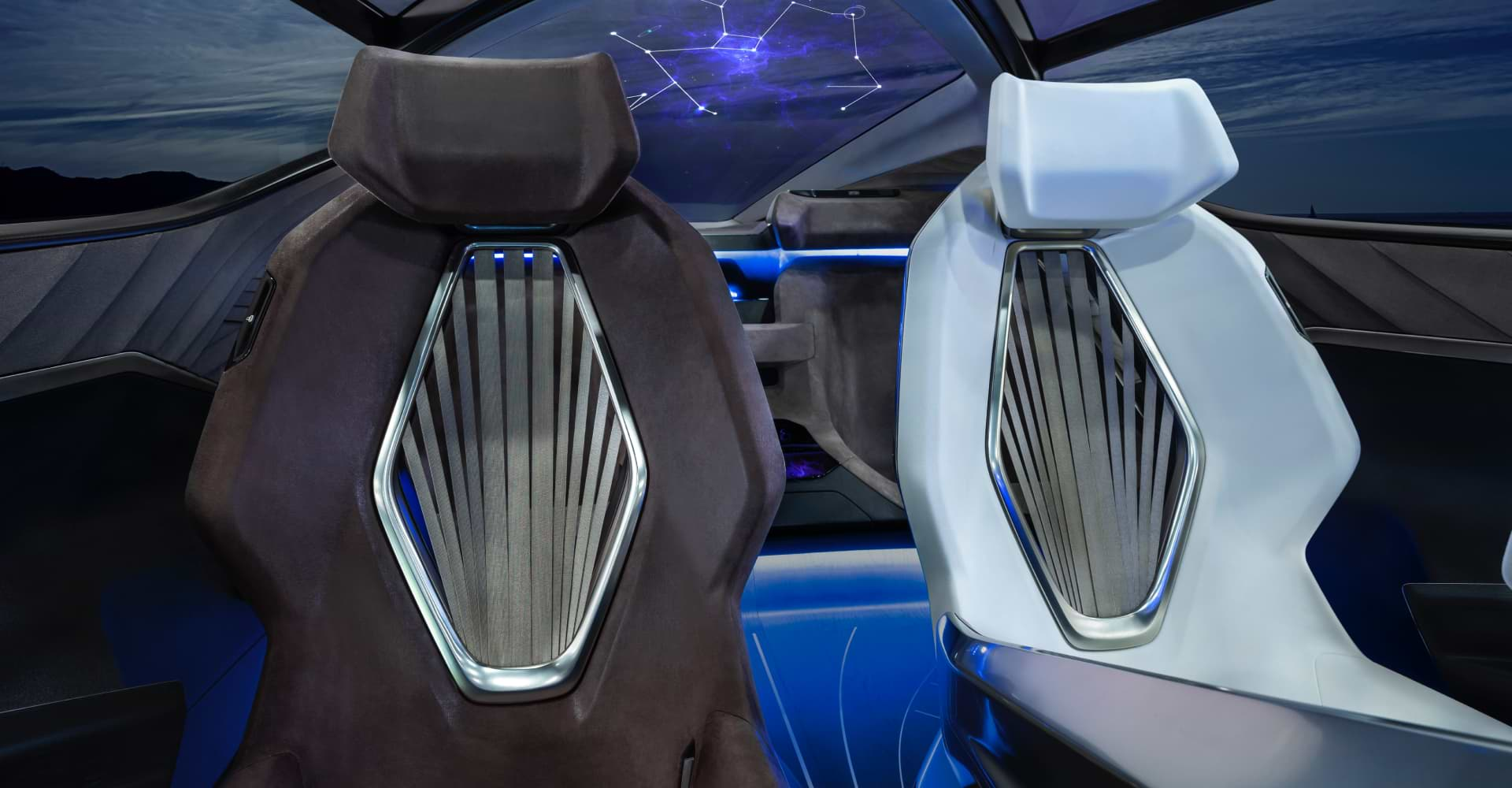 DYNAMIC EXPERIENCE FEATURES
To achieve a fundamental leap in vehicle performance, handling, control and driver enjoyment, the LF-30 employs numerous state-of-the-art technologies even beyond advanced posture control.
Advanced Posture Control
Lexus Advanced Posture Control technology regulates the drive-power output from high-torque electric motors to adjust vehicle posture in tune with human sensibilities.


Onboard AI
Onboard AI uses personalised information stored on the driver's control key serving as a partner facilitating the adjustment of elements of the interior environment, such as air temperature and audio, and the setting of navigation routes and destinations, while also making proposals for activities after arrival.
Lexus Airporter
The LF-30 Electrified also carries the 'Lexus Airporter' drone-technology support vehicle. Using autonomous control, the Lexus Airporter is capable of such tasks as independently transporting baggage from a household doorstep to the vehicle's luggage area.
Wireless Charging Technology
Wireless charging technology simplifies daily charging, and artificial intelligence (AI)-based energy management enables optimal distribution of electric power to both the vehicle and the home.
The Mentor with Mark Bouris
Development of the LF-30 Electrified was lead by Ian Cartabiano, President of Toyota Europe Design Development and his team. Listen to Lexus ambassador Mark Bouris talk to Ian, about car design, innovating for the future and how Lexus stay ahead of the curve in Mark's podcast, The Mentor.
LISTEN TO THE FULL EPISODE